I am fascinated by innovations that solve "big" problems. Recently I was at MIT's EmTech Conference as well as several health-focused events. A common thread throughout these conferences was that technology can be part of the solution to many of our greatest problems — from the threat of global warming and the energy crisis to reinventing manufacturing, fighting disease and empowering consumers to make better decisions about their health.
Reinventing Manufacturing
While I generally look at products as a manifestation of trends, there is one that stands out given its potential to reinvent the manufacturing sector in the U.S. Over the past several years, we have heard the lament about the loss of U.S. manufacturing jobs. However, manufacturing has not plummeted like many would like us to believe. Rather, the U.S. has held onto higher-value manufacturing while companies have been chasing mass production across Asia — moving from Japan to Korea, Taiwan, Vietnam, China, Thailand and elsewhere.
According to a 2012 Boston Consulting Group survey, 45 percent of U.S.-based CEOs interviewed said they were seriously considering pulling their manufacturing facilities out of China. Has manufacturing in China become too expensive for American companies? If so, what is the alternative?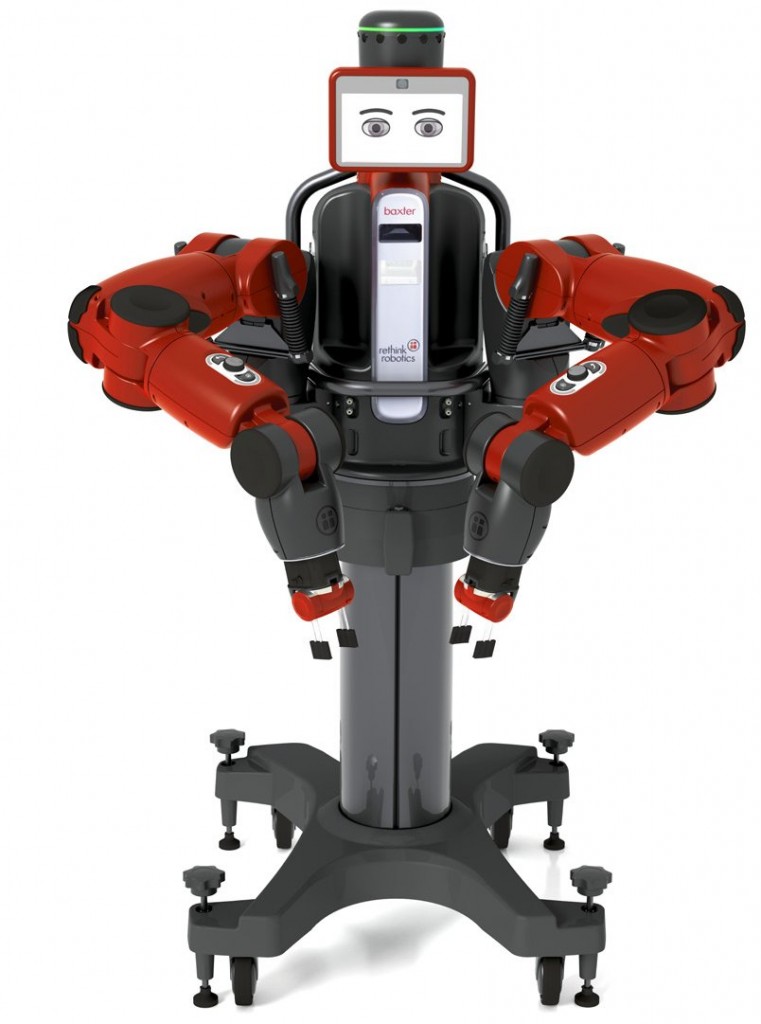 Enter Baxter from Rethink Robotics. I first saw this robot at the MIT EmTech conference. Baxter is a capable, two-armed industrial robot that comes ready to work on the factory floor in less than one hour. Priced at $22,000, Baxter is designed to be affordable for mid-size and small manufacturers that previously could not afford robots. Imagine being able to bid on new jobs because you could be more responsive for short runs, could innovate close to where a product is manufactured and could have better protection of your intellectual property.
"We believe that if we could cross that chasm with the manufacturing environment specifically in mind, we could offer new hope to the millions of American manufacturers who are looking for innovative ways to compete in our global economy," says Rodney Brooks, head of Rethink Robotics. Brooks is also a robotics professor at MIT and one of three co-founders of iRobot.
Unlike traditional robots, Baxter is a self-contained system that doesn't require integration, sophisticated software programming or additional capital investments. Baxter is designed to perform simple tasks and work safely side-by-side with people and not in a cage. Unlike traditional robots, no expertise is required since training Baxter is similar to how one would teach a person. Typical factory workers can interact with the robot directly — training it to do a task in less than 30 minutes. Baxter understands and adapts to the task at hand.
Rethink's new line of Baxter robots has the potential to redefine how small, mid-size and large domestic manufacturers can use automation to compete with manufacturers in low-cost regions of the world. Baxter breaks down the cost and safety barriers that have limited automation in American manufacturing. Potentially, these robots, which just became available in October, could help to create new jobs and business opportunities to revitalize U.S. manufacturing.
Consumerization of Health Care
Health care in the U.S. is also undergoing revolutionary change. Big ideas along with technology are at the core of solving the challenge of stratospheric health care costs. We are moving from a physician-centric model to a patient-centric model and technology has the ability to empower consumers like never before.
Mobile technologies are providing greater consumer access, producing better health outcomes and improving institutional workflow efficiencies while lowering the cost of health care. Related technologies such as M2M (machine to machine), NFC (near field communications) and sensors, along with greater consumer engagement and motivators through gamification, social networking, incentives and coaching, are coming together to form a new platform for health care.
The baby boomer landslide is upon us, and boomers expect to live more vibrantly and independently than their parents. "They have faith in technology," notes Dr. Joseph Coughlin, director of MIT's AgeLab. Moving forward, it's going to take "big" ideas to overcome the challenges that the U.S. and countries across the world will be facing. Stay tuned for more developments in 2013.