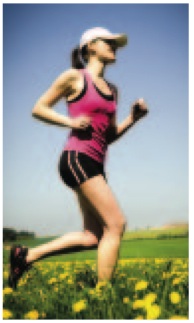 Spiraling healthcare costs, an obesity epidemic and a shortage of healthcare professionals in rural communities, as well as an oncoming shortage of professionals for aging boomers, are forcing a fundamental change in healthcare delivery services and patient/provided dynamics. Wellness and fitness products are becoming essential for disease prevention, treatment and monitoring at home or on-the-go.
Fitness activities like jogging and working out are taking on new meaning as a slew of sensor-driven devices measure calories burned, cardio levels and other parameters. What's more, devices and services are finding their way from the doctor's office to mass distribution through stores like Best Buy, CVS and Walgreens.
Apps and Devices
Mobile health (mHealth) is changing how consumers engage in healthy behaviors, patients manage their own care, physicians manage their practices and payers interact with their members. Thousands of smartphone apps and sophisticated health monitoring tools are improving  efficiency for care management and opening up new lines of communication for  physician-to-physician   and patient-to-physician  relationships, while also helping consumers better understand their own health needs.
Many peripherals now attach to mobile phones such as  Sanofi's iBGStar blood glucose meter plug-in for the iPhone, with a plug-in module created by Agamatrix. The upcoming iPhone plug-in will interact with a not yet Apple-approved iBGStar Diabetes Manager application to help users track blood glucose, carbohydrate intake and insulin  dosage. Agamatrix already offers such an app for iPhone users under its   Wavesense brand, but that application does not pair with a blood glucose meter.Another new peripheral is AliveCor's iPhoneECG, an electrocardiogram reader that attaches to the back of an iPhone and displays heart rate info via an app. Discussions are underway for FDA clearance.
At Northeastern University's Department of Pharmaceutical Sciences, a nanosensor "tattoo" is being developed to monitor sodium and blood oxygen levels with an iPhone in order to check blood glucose levels in diabetics without having to finger-prick.  A solution containing nanoparticles is injected into the skin causing the nanoparticles to fluoresce when  exposed to a target molecule.  An iPhone inside a modified case is pressed to the skin and tracks the changes to reveal the sodium or glucose present. Currently, the iPhone only takes images of the tattoo, which are analyzed on a computer, but an app is  in the works to allow analysis on the phone.
Ford is jumping into the wellness arena as well. Paul Mascarenas, chief technology officer at Ford Research and Innovation, says the car will be the next platform for mobile health services. Connectivity options  like Bluetooth and USB he says "will make the car the ultimate setting for health and wellness activities. We [Ford]  see health and wellness as a core area for us moving forward." Ford is working with companies like Medtronic, WellDoc and SDI. Medtronic offers a continuous glucose meter (CGM) that connects  to the car via Bluetooth and allows users to hear alerts about their blood glucose readings. WellDoc offers a cloud-based DiabetesManager service to encourage drivers to double-check their blood sugar when they get behind the wheel if they recently had a low reading. Finally, SDI's Allergy Alert app  for iPhone can sync up to Ford vehicles and notify drivers of allergy, flu and asthma alerts in the areas they are driving through.
Retail's Role in Healthy Lifestyles
In September, Walgreens announced a partnership with the U.S. Department of Health and Human Services (HHS), the Centers for Disease Control (CDC)   and the Centers for Medicare and Medicaid Services (CMS) to launch the Million Hearts Initiative. The goal is to help prevent one million heart attacks and strokes over the next five years. As part of the initiative Walgreens will provide free blood pressure testing and promote diabetes testing at all of its drugstores.
Likewise, Sam's Club, recognizing that one in six men will develop prostate cancer in his lifetime, offers free prostate cancer screenings  sponsored by Unilever. And CVS Caremark's MinuteClinic locations offer diabetes management services, in an effort to help the nearly 26 million Americans affected by the disease.
New Technologies
Consider the growing array of devices like pedometers, Bluetooth-enabled weight scales, and blood pressure and  heart rate monitors. At CES new health-related products, platforms and technologies will be showcased by Alcatel Lucent, Audiovox, Ideal Life, Qualcomm, and Zeo, as well as products based on the Ant+ platform from A&D  Medical, Dayton and New Evolution Technology. Consumer empowerment is on the move with health measurement and monitoring just a touch away. Susan can be reached at susan@c4trends.com.