In the late 1990s, Internet radio first began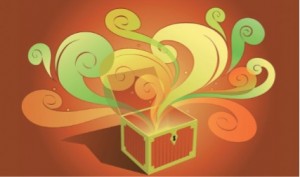 to attract attention. But it was not until 2001 that Apple transformed forever how we listen to music with the introduction of the iPod and iTunes. While there were already MP3 players on the market, Apple's attractive device made waves, and its online store is now the world's largest music retailer. iTunes has more than 575 million global accounts that generate about $40 a year per account on content sales, according to market research firm Asymco.
However, sales of music downloads from the iTunes store are falling. Other content, in particular apps, now represent a larger share of retail sales, because many consumers now use their smartphones to connect to iTunes, Pandora, Spotify, iHeartRadio, and other music streaming apps and services.
We're on the cusp of yet another paradigm shift with the onslaught of online streaming and Internet radio services. Apple got the buzz going again when it introduced iTunes Radio at its Worldwide Developers Conference (WWDC).
Slated for release this fall, iTunes Radio is a free Internet radio service featuring several hundred radio stations and an extensive catalog of music from the iTunes Store. Apple also inked deals with all three major music labels: Universal Music, Warner Music, and its publishing arm, Warner/Chapell, and Sony Music.
iTunes Radio is available for free with advertising and ad-free for those who subscribe to iTunes Match. Apple plans to sell ads through iAd, its mobile ad business. Consider the larger implications for a vibrant, micro-targeted business model based on Apple knowing its customers and their preferences. This business model has the potential to boost download sales from iTunes, and could potentially offer artists and labels a revenue share based on ad sales.
Meanwhile, Google has introduced its newest streaming music service, Google Play All Access, which it calls "radio without rules." The service offers a deep catalog of songs on demand, as well as interactive bells and whistles like new music recommendations, and playlist building and sharing. Listeners can combine their own music and albums with streaming audio to create one library, in one interface. Warner Music Group recently cut deals for two Google streaming services — one attached to YouTube, the other to Google Play.
The hitch for Google is that while this service is available across all devices for a monthly fee of $9.99, people associate Google with free services and this new model is built on monetizing traffic.
Steering the Market
Currently, Pandora leads the Internet radio pack with 70 million active listeners, available in the U.S., Australia and New Zealand. Founded in 2000, Pandora uses its music analysis algorithms to evaluate hundreds of musical details in every song then builds personalized playlists for users. Pandora offers a free, ad-supoported services as well as a subscription service called Pandora One.
Second to Pandora is the Swedish company Spotify, with 20 million active users, and about six million paying subscribers, one million of which are in the US. Apple, meanwhile, wants to quickly roll out the service in up to a dozen countries, including the U.S., U.K., France, Germany, Australia, and Japan.
Spotify subscribers pay a fee for mobile access to its on-demand platform, as do subscribers to other services like Rhapsody and Rdio. And even longtime streaming holdout Metallica signed an exclusive deal with Spotify. These Internet Radio companies pay millions of dollars to rights holders. As Pandora, Spotify and others have entered the music scene, piracy has fallen.
Access Industries recently made a $60 million investment in Beats Electronics' streaming service Daisy, which grew out of the sale of startup MOG. Pandora, Spotify, Rhapsody, Deeze, Muvee Music and others continue to give consumers more choices.
Competition will be a catalyst for growing this market, and new business models will evolve that will work for the artists, copyright owners and ultimately for consumers. Let the music begin.
Susan can be reached at susan@c4trends.com