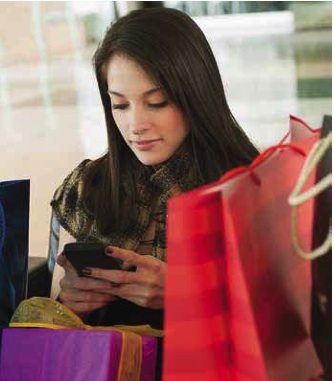 Store loyalty is eroding. According to Nielsen, 43 percent of U.S. shoppers switched their retailer of choice after going online to research a product – but interestingly a McKinsey Research study found that 40 percent of customers remain open to persuasion once they enter a store. Consumers who shop across a number of channels – physical stores, the Internet and catalogs – spend about four times more annually than those who shop in just one, according to McKinsey. So in this atmosphere, how are retailers using the Internet and social media to drive branding, engagement and sales?
While physical space is still very important – the new rules of engagement for retailers revolve around implementing a multi-channel strategy and making the online experience as dynamic and personal as possible. Retailers are tapping into social media to grow their reach, and using measurement and analytics to inform their businesses. During the 2011 holiday season some of the largest retailers – Amazon, Best Buy, Target and Walmart – found ways to increase the number of consumers who clicked from social media sites to their retail sites, according to social marketing vendor Buddy Media and Web measurement firm comScore.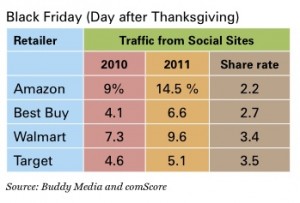 In part, this growth was fueled by holiday promotions on social media targeted to fans – and had a viral impact reaching friends of fans, which multiplied the number of impressions. Target had the highest lift in a comparison of the weeks ending Oct. 19 and Nov. 30 – the number of its posts that were shared increased 3.5 times during the corresponding week the month earlier. Walmart was close behind at 3.4 times, Best Buy had a lift of 2.7 times and Amazon posed a jump of 2.2 times. This sharing behavior is increasingly valuable. For instance, using an average cost per thousand impressions, or CPM, of $3.55, Walmart earned $417,000 worth of impressions.
Social Work
The mega retailer's innovative new research lab called @WalMartLabs ties together social and mobile channels with in-store shopping. During the holiday season it launched Shopycat, a Facebook app that with permission provides gift suggestions based on your friends' profiles. Another in-store app is in development to encourage customers to use their mobile phones to interact with other shoppers to receive information about products, opinions and deals. The Shopycat app builds on what Walmart execs call 'social genome' technology, that it acquired when it bought Kosmix, a Silicon Valley company that specializes in social data mining for targeted marketing. Walmart also acquired OneRiot, a Boulder, Colo., firm that has developed social commerce technology. The slogan of @WalMartLabs sums up this new direction, 'Social+Mobile+Retail.'
American Express also aggressively engages in social media programs with Facebook and foursquare and has turned Twitter #hashtags into national merchant offers. When card members tweet using special hashtags, savings are loaded to their synched cards with no coupons needed. When card members use their synched card for purchases, the savings are delivered via a statement credit. Participating merchants include Best Buy and Zappos. American Express also provides detailed reporting to merchants about the spending behavior of their customers.
Amex is also helping small businesses succeed with its program called "Social Media Show + Tell." Through a series of videos hosted on its LinkedIn Business Knowledge Share group, experts explain how their social media tools can empower business owners.
Changing Dynamic
According to Accenture, 73 percent of mobile-powered shoppers prefer peering into their phones for assistance over talking to a retail clerk. Mobile apps such as Red Laser, Edocrab, Scope, ShopSavvy and Scandit are changing the customer/retailer relationship as consumers compare prices from multiple sources, while still in the store. According to market research firm ClickIQ, 29 percent of consumers who use a smartphone to research a product while in a store end up purchasing the item online, often from Amazon.com.
Retailers are starting to fight back. Best Buy, for instance, has added QR codes to store items for customers looking for more product information. Once they engage with the QR codes, it keeps them in the Best Buy system to provide more information.
App developers such as foursquare, Klout, Shazam, Shopkick, SCVNGR and Zynga are now partners for interactive campaigns as technology changes how and where consumers purchase products. Retailers are exploring how social networking partnerships can help increase brand interactions like micro-sites that engage shopper feedback and personalized promotions to draw shoppers back into stores to build brand-loyalty.
Retailers are striking a balance between reaching customers on their terms, engagement through social media, and multi-channel marketing strategies.