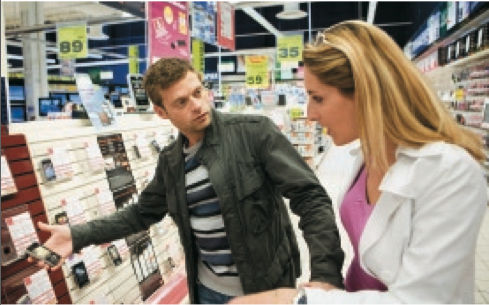 Mobile commerce is expected to jump 50 percent, encouraging retailers to implement a wide array of social media techniques such as location-based marketing applications. Retailers know when consumers are shopping and they now can offer on-the-spot loyalty incentives through Foursquare or Gowalla or enhanced in-store customer experiences from Shopkick. Collaborative online shopping experiences also are part of the retail mix using ShopTogether, StyleHive and Kaboodle or implementing "Deal of the Day" and couponing technologies from CrowdSaver, Groupon and RetailMeNot.
Companies implementing social marketing strategies are banking on building an army of brand advocates. Shopping on a cell phone or computer enables sharing at rapid speeds, and retailers are hoping this translates into instantaneous buzz and sales. But beyond just moving product, social marketing is also about reducing promotion costs while enhancing the potential reach of a campaign—or keeping a brand strong in the face of negative comments that can now spread faster than the speed of light.
Companies implementing social marketing strategies are banking on building an army of brand advocates.
Power to the People
During the fourth quarter, Wal-Mart launched a test on Facebook of its new CrowdSaver service—an application that enables a group buy-in model. A discount is unlocked once enough consumers opt in. One launch promotion was an 18 percent discount on a plasma TV if it got 5,000 likes. Wal-Mart encouraged its fans to rally their friends in order to ensure the deal happened. The promotion has proven popular among Wal-Mart's fan base, with this threshold being reached within the first 24 hours.
Target is extending its visibility into creating a more interactive experience. It is posting engaging commercials by the likes of Keith Urban on YouTube and Tweets about "crazy-cool gift ideas and other random acts of jolliness". Leveraging its strength as a game- changer who brought hip designer collaborations to the masses, it launched its Merona My Look Maker, an interactive fashionista Facebook app via Facebook ads, Facebook alerts, Twitter alerts and the Merona section of the Tar- get website. Merona is a Target house brand for women. Consumers can create their own unique ensemble from the Merona style gallery collection and with one click upload and share their look with friends on their Face- book wall. Computer users also can connect to the Target website with a "shop it now" feature to buy the merchandise.
Ford Motor Company is using social media to both sell and launch cars in the U.S. at a considerable cost-savings versus a more traditional launch. Ford ran a pre-launch social media campaign for its Ford Fiesta, which resulted in ten times the number of reservations converted into orders than with the more traditional introduction. Subsequently, it ditched the traditional auto show launch for the introduction of the 2011 Explorer on Facebook, which made a greater impact than even a Super Bowl commercial.
Microsoft's Xbox customer support team is using Twitter to reduce support costs and improve glitch resolution. In the fast mov- ing world of social media, it's imperative for organizations to listen and identify a problem before it spins out of control. The Xbox Sup- port Elite Tweet Fleet team follows comments on Twitter to identify emerging issues and in real-time respond to relevant posts. In 2010 the team won the Guinness' World Record for Most Responsive Brand on Twitter.
Cisco marketers used only social media to launch its new Aggregated Services Router (ASR) product. Bottom-line for Cisco was that it cost one-sixth less, or a savings of more than $100,000, as compared to a traditional launch—with an improved response. More than 9,000 people attended the social media product launch event—90 times more attendees than in the past. This social media-marketing launch won a Leading Lights award for Best Marketing.
As a result of its measurable success, Cisco is extending the use of social marketing for branding throughout a greater portion of its product lines. This includes a music festival product launch on Second Life, which drew 90 percent more impressions at a fraction of the cost of a traditional media approach. And it has connected its executives directly to its customers through video conferencing and YouTube video CEO announcements.
As companies attempt to figure out how to build a loyal consumer base around their brands, they are struggling to determine what is the value of a Facebook fan? How do social media efforts contribute to their overall ROI? While brands experiment with figuring out what to make of social marketing and its viability as a revenue generator, John Andrews, senior manager of emerging media Wal-Mart notes, "Don't think of it as a substitute for traditional marketing. It's a great amplification to what you are already doing."
E-mail comments to: . susan@c4trends.com